Chennai Metro Rail
synopsis

This project aims at providing the people of Chennai with a fast, reliable, convenient, efficient, modern and economical mode of public transport, which is properly integrated with other forms of public and private transport including buses, sub-urban trains and MRTS.

Metro Train Fares

Check the fare for metro train chennai. Read more

Project Status

Tentatively, Phase-1 of the project is programmed for completion in the financial year 2014-2015. The physical works are in progress.
Latest News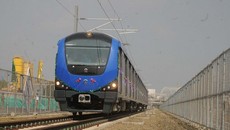 Check out the current status of Chennai Metro rail project and it to be finished soon. Read more