---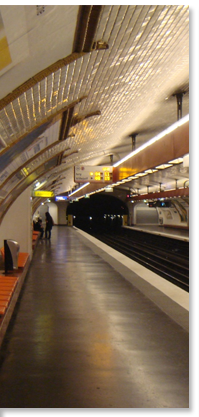 Stations and their locations
Two Corridors with a combined length of 45 Kms. It will be constructed in the first phase of the Chennai Metro Rail Project. Of this, 24 Kms. will be underground while 21 Km will be elevated. Corridor I, with a length of 23 kms. (14.3 Kms. underground and 8.7 Km elevated), will run from Washermanpet to the Airport via Anna Salai.
CMRL will construct 16 Metro Stations in Corridor – I.
The Stations viz. Washermanpet, Mannadi, High Court, Central, Govt. Estate, LIC, Thousand Lights, Gemini, Teynampet,Chamiers Road and Saidapet, will be Underground (10 stations).
The Metro Stations at Little Mount, Guindy (metro), Alandur, Officers Training Academy, Meenambakkam and Airport will be Elevated (6 stations).
In corridor – II it is proposed to construct 16 metro stations.
Corridor II, with length of 22 Kms. (9.7 Kms. underground and 12.3 Kms. elevated), will run from Chennai Central to St. Thomas Mount via Koyambedu.
The portions from Washermanpet to Saidapet on Anna Salai in Corridor I and the portions from Chennai central to Thirumangalam in Corridor II will be underground and the remaining portions will be elevated.
Chennai central and Alandur metro stations are included in both the corridors.
The Metro Stations viz. Chennai Central, Egmore, Nehru Park, Kilpauk Medical college, Pachaiyappa's college, Shenoy Nagar, Anna Nagar East, Anna Nagar Tower, and Thirumangalam will be Underground (9 stations).
The Metro Stations at Koyambedu, CMBT, Arumbakkam, Vadapalani, Ashok Nagar - KK Nagar, SIDCO, Alandur and St. Thomas Mount will be Elevated (7stations).