---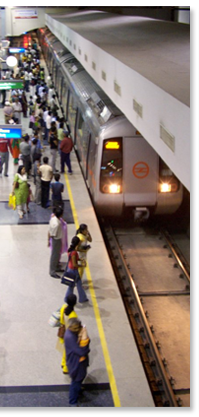 Facilities and Safety features
Facilities and Safety features available in Metro Rail Coaches
All metro coaches are of state of the art design, air-conditioned, light weight, made of stainless steel, regenerative braking system.
Each 4-car rake will be provided with a 1st class seating section in the coach closest to the operator's cab.
The cars will have Automatic Train Protection (ATP) and will be run on Automatic Train Operation (ATO) mode.
All the cars are provided with electrically operated bi-parting automatic sliding doors to ensure the safety of passengers.Besides, these cars will have electronic route map,Public Address system, Passenger Emergency Intercoms, Video surveillance and CCTV.
Each rake will have two wheel chair parking locations for the benefit of physically challenged persons.
The trains will be equipped with gang ways to facilitate easy movement of passengers from one car to another.
All coaches will have emergency buttons to alert the driver.
The Trains will be operated through 25 KV through an Overhead Catenary System.
For a 4-car metro rake composition, the capacity will be 1276 persons including seating and standing.